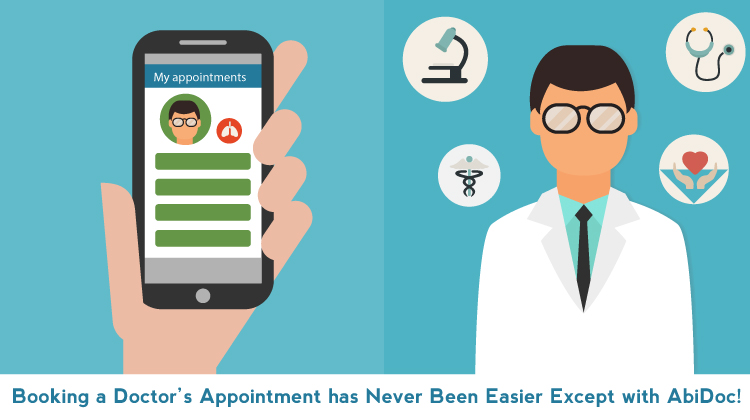 Most of us own a cell phone, tablet or other mobile devices that allow us to install and use apps, and most of us use our devices on a daily basis. There are apps for entertainment purposes and apps for organization. People are often using their mobile device's utility apps to help simplify many portions of their lives from conducting online banking to ordering a pizza for delivery because let's face it; you have a busy life! Whether it be school, work, social life or family time, there is always a lot of things to try and pack into one short day. Making a doctors or dentists appointment is no exception and thanks to AbiDoc, you can simplify your health and rightfully so as your health and well-being should never take a back seat to anything else.
The AbiDoc service allows you to book an appointment directly with any doctor that fits your needs best. Not only can you save time scheduling appointments but you can also reschedule an appointment in less than 30 seconds! Faster than calling in and waiting for a receptionist to answer in many cases! You can access the service not only by the mobile device or smartphone via the App Store or Play Store, but also by going directly through the website at www.AbiDoc.com.
Choose Your Doctor Based on Your Specific Criteria
With the AbiDoc app, you can quickly search for professionals in your area using your iOS or Android device's global positioning feature. Also easily refine your search to include your applicable insurance plan and provider, your doctor's clinical and educational qualifications, background and even including the doctors language and gender that you prefer. Select a medical specialty from over 50 different medical specialty categories from dentistry to surgeons. Then book appointments with your desired doctor and their schedule will synchronize with the selection you just made.
What are You Waiting for? Book an Appointment Now!
All you need to register an appointment is a valid mobile number to receive your 3 digit pin via SMS text message and some basic information such as your name, gender, and date of birth. You will of course also have to read and agree to the terms of service before your appointment can be made successfully.
For more information on setting up AbiDoc on your phone or other device contact them via their Website at http://abidoc.com, or Email them at [email protected] , You can also communicate with the call center, Phone:+965 22 207 337, or connect via one of their various social accounts such as Twitter: https://twitter.com/abidoc, Facebook: https://www.facebook.com/abidoc, and Instagram: https://instagram.com/abidoc/.